Millions of people will lose one or more of their adult permanent teeth. This can lead to oral dysfunction, self-consciousness about their smile's appearance, and a higher risk of other dental problems. Fortunately, a dentist can find a tooth replacement treatment that will suit your unique needs and restore your dental health.
Dental implants offer the most comprehensive benefits when it comes to replacing missing teeth. Unlike other treatments, implants can stop negative side effects in your jaw that stem from tooth loss. Read on to discover what happens to the jaw when you lose a tooth and how tooth replacement with dental implants can help.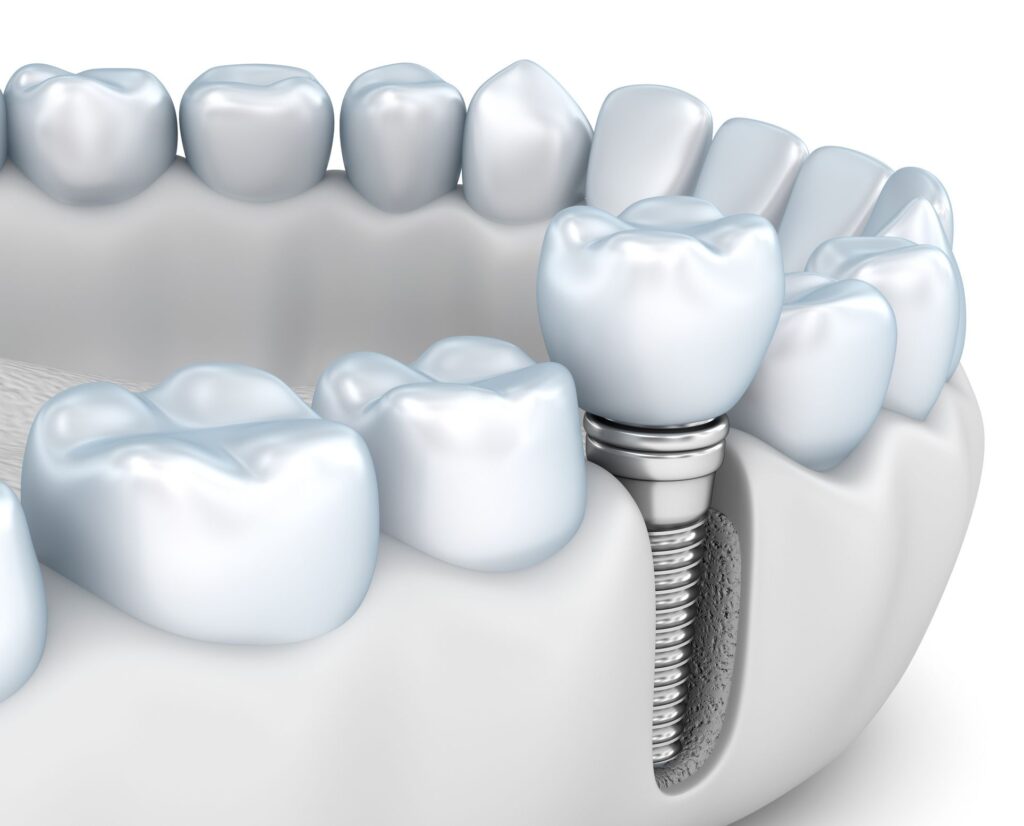 How Do Missing Teeth Affect Jaw Health?
A healthy dental patient features a full set of teeth, and each tooth has a root that extends below the gumline to the jaw. The tooth root stimulates the bone in the jaw, which keeps it strong and stable.
If you lose one or more teeth, you are missing these tooth roots, and your jawbone no longer receives stimulation. In the roots' absence, the bone starts to deteriorate. This can result in a sagging appearance in the face, shifting of remaining teeth in the mouth, and other oral health complications.
You cannot stop this effect on your own after losing a tooth. Schedule a consultation with your dentist to discuss ways to preserve your jawbone in the wake of tooth loss.
How Do Dental Implants Protect Jawbone?
To stop bone loss in the jaw, a dentist will likely recommend tooth replacement using dental implants. These fixtures use a titanium post anchor, which a dentist surgically inserts into the jaw, as a support for any necessary dental prosthetics. They stay in place because the anchors fuse with the jawbone as they heal, allowing for a secure and long-lasting foundation.
The anchor also serves as a replacement for the missing tooth root, stimulating the jawbone once more. This stops bone deterioration and, in some cases, encourages lost bone to regrow. You can restore oral function, fill gaps in your smile, and preserve your facial and dental structure this way.
Removable tooth replacement options like dentures cannot accomplish this because they only replace teeth above the gumline. You and your dentist can discuss your oral health goals and preferences to find the best treatment for your needs.
Can My Jaw Support Dental Implants?
Though the advantages of implant dentistry seem clear, not everyone can qualify for this treatment. Implants rely on the fusion of their anchors with the jawbone. If you lost too much bone in the jaw after tooth loss, this process cannot occur successfully and you will not support the implant.
Your dentist will evaluate your jaw health prior to starting treatment to ensure it is strong and stable enough for the treatment. If not, they may suggest a bone graft to build structure that might ultimately support an implant. If this is not feasible, you and your dentist can discuss alternative tooth replacement solutions.