Dr. Michael Courter wants to start off by saying thank you for considering our North Midland dental practice for all of your oral health needs. You'll find his dedication to providing exceptional services and personalized, one-on-one care to be quite refreshing. Our dental staff creates a friendly environment for patients to feel confident and comfortable during their dental procedures.
Before you arrive, we encourage you to learn more about the new patient first visit process, financing options, and other information below. Read on to discover answers to common questions patients may have about their dental care.
If you have additional questions or would like to become a member of our local dental family please call our office and we will be happy to assist you. We can't wait to meet you and your family soon!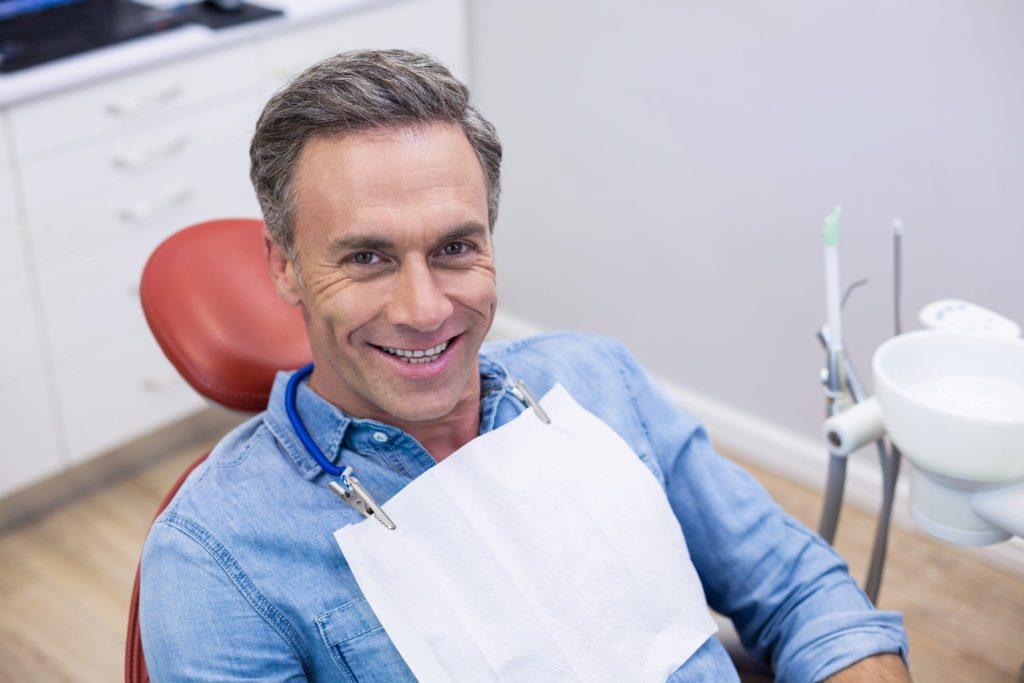 Routine Care and Your First Dental Visit
Before your first visit to our Midland office, we recommend that you contact your previous dentist's office so they can send your personal x-rays and dental documents. We also ask that you bring your insurance information, if applicable, to your first visit. Your first visit will be similar to a regular routine visit to our office.
Often, routine dental appointments include:
Dental Cleanings
Digital X-rays
Gum Disease Screenings
Oral Cancer Screenings
We welcome any and all patient questions, whether they are about the diagnostic process or current concerns. Our dental hygienists use specialized dental tools to clean the teeth and gums at routine cleanings. They also provide dental sealants and fluoride treatments upon request.
Patients may also require dental X-rays and screenings for any possible problems. Then, Dr. Courter will thoroughly examine your mouth, teeth, and gums. Our dentist will recommend treatment if they find any signs of developing dental issues.
Patient Resources
Learn more about our dental and office staff, our comprehensive services, and payment and insurance information here:
Common Dental FAQs
Learn the answers to common questions that our new patients ask our dentist.
Are you accepting new patients?
Yes, Dr. Courter and his team are accepting new patients from Odessa and Midland, Texas. New patients can request a dental consultation with Dr. Courter online or call his office at 432-287-9531.
Do you accept dental insurance?
Yes, we accept many forms of dental insurance and financing methods. Our team can also help patients maximize their benefits and file claims.
How often should I visit the dentist?
We typically recommend that patients visit the dentist for biannual routine visits or every six months. During these routine visits, we clean the teeth and gums and may take X-rays or screen for oral health issues. If our team finds that you have dental problems that require more monitoring, we will suggest a schedule for you to visit us on a more frequent basis.
Do you offer emergency dental care?
Yes, you can call our office if you have a dental emergency and we will provide you with prompt care. Some of the most common emergencies we treat include damaged or lost permanent teeth, broken dental restorations, tooth pain, and excessive bleeding.
Treating these emergencies as soon as possible helps preserve the tooth structure and prevent future dental complications.
How can I treat my dental fear and anxiety?
We aim to create a friendly and comfortable space where our patients feel confident in our dental care. Dr. Courter, his dental team, and his office staff collaborate with patients to find the best solutions for their needs. For patients with dental fear or anxiety, we offer dental sedation.
Sedation dentistry makes dental procedures more comfortable for patients. Oral conscious sedation and nitrous oxide are treatment methods that we can also use at routine appointments if patients have severe fear or anxiety.
Contact Our Dental Office Today
Are you looking for a new dentist in the Permian Basin? Call Dr. Courter's dental office for professional and comprehensive care at 432-287-9531. You may also schedule a dental appointment on our website.
We serve patients in Midland, Odessa, and the surrounding areas. Please let our team know if you have any remaining questions about treatment and they will be happy to assist you.