Dental implants are medical tools that Dr. Michael Courter uses to replace missing teeth. This intricate dental device can replace one, several, or an entire arch of teeth. Dr. Courter offers dental implants in Midland, TX for patients who want the most natural tooth replacement option.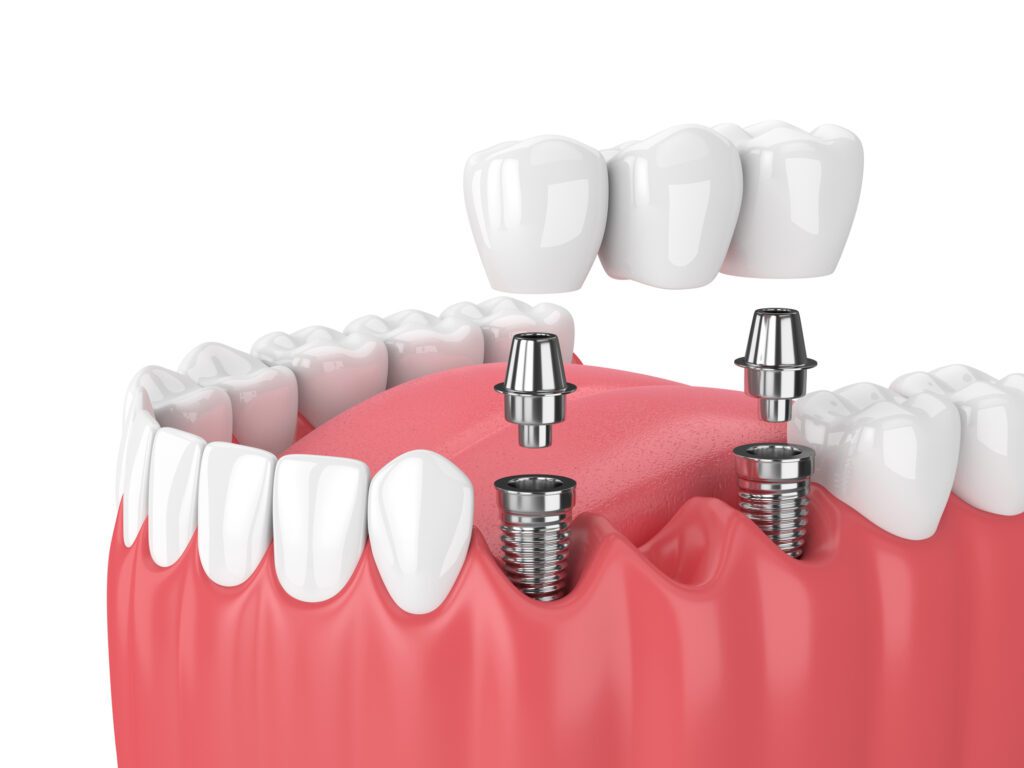 The Parts of a Dental Implant Restoration
A dental implant restoration is made up of several components, each serving a specific purpose in restoring a patient's smile. A typical dental implant restoration is made up of 3 parts, the implant post, the abutment, and a dental restoration. Before choosing this option, Dr. Courter wants his patients to understand how each component of an implant restoration works.
Implant Fixture: The Foundation of a Dental Implant Restoration
The implant fixture is the anchor of the dental implant restoration, serving as an artificial tooth root. Typically made of biocompatible materials such as titanium, implant fixtures provide stability and durability. The fixture is essentially a post that resembles a screw with threads. To secure it, you will need to undergo a surgical procedure where the implant post will be inserted into the jawbone. Here, it will fuse to the bone.
Implant Fixture Sizes
Implant posts come in various sizes to accommodate different patients' needs. There are three basic sizes: standard, mini, and wide. The length can range from 8 mm to 16 mm however the diameter is based on the patient's needs, where the implant is being placed, and the amount of available bone mass. The diameters of three basic sizes of implants are:
Standard Dental Implant: 3.5 mm – 4.3 mm
Mini Dental Implant: 2 mm – 3.5 mm
Wide Dental Implant: 4.5 mm – 6mm
In most cases, Dr. Courter will use a standard implant. It is necessary to use a mini implant when there is little space between the teeth roots or with patients who lack bone mass. A wide implant is necessary when patients are replacing larger teeth with more expansive root systems, such as the teeth in the back of the mouth. Dr. Courter will determine the exact position of the dental implants and is based on your oral health, bone density, and the specific tooth being replaced.
Abutments: Connecting Implant Fixtures to Restorations
Abutments are connectors placed on the implant fixtures, acting as support for dental restorations. They come in various materials, including titanium, zirconia, and stainless steel. There are many types of abutments available. The type of abutment you will need depends on several factors. Your oral anatomy, the aesthetics you are going for, and the implant position. A custom abutment is typically preferred for irregular shapes, better aesthetic results, and for implants that are placed in challenging locations within the mouth.
Types of Abutments
Stock Abutments: These are pre-made and come in various shapes and sizes. They are suitable for standard cases.
Custom Abutments: We can create a custom abutment that is tailored to your specific oral anatomy. These are ideal for complex cases where precise fit is crucial.
Temporary Abutments: In some cases, a temporary abutment is necessary. We use them during the healing period after implant placement, providing aesthetic and functional benefits.
Dental Restorations: Completing the Implant with Prosthetic Teeth
Dental restorations are the visible part of the dental implant, providing natural-looking teeth. Dr. Courter offers different types of restorations to accommodate his patient's unique needs and preferences. The type of dental restoration you will need depends on how many teeth you are missing, where they are located, the state of your oral health, and your budget.
Types of Dental Restorations
Single Crowns: Used when replacing a single missing tooth.
Dental Bridges: Suitable for replacing multiple adjacent missing teeth, using implants as support.
Dentures: Implant-supported dentures are used to replace an entire arch of teeth or most of the teeth on an arch.
Learn More About Dental Implants
---
Understanding the components of dental implants is important if you are considering replacing your teeth with them. Schedule a consultation with Dr. Courter to learn more about dental implants in Midland, TX. Call 432-287-9531 or request an appointment online.