Dr. Michael Courter is a family dentist who serves patients in Midland, TX, and the Permian Basin area. Along with his professional office staff and dental team, Dr. Courter is dedicated to helping patients of all ages receive the oral health care they need. At Dr. Courter's office, our staff can help schedule appointments for families that allow multiple members of their family to receive appointments in one visit.
Family dental care is a general dentistry service that provides routine and preventative care to all patients. From pediatric and preventive to geriatric dental care and everything in between, Dr. Courter and his team are here to help.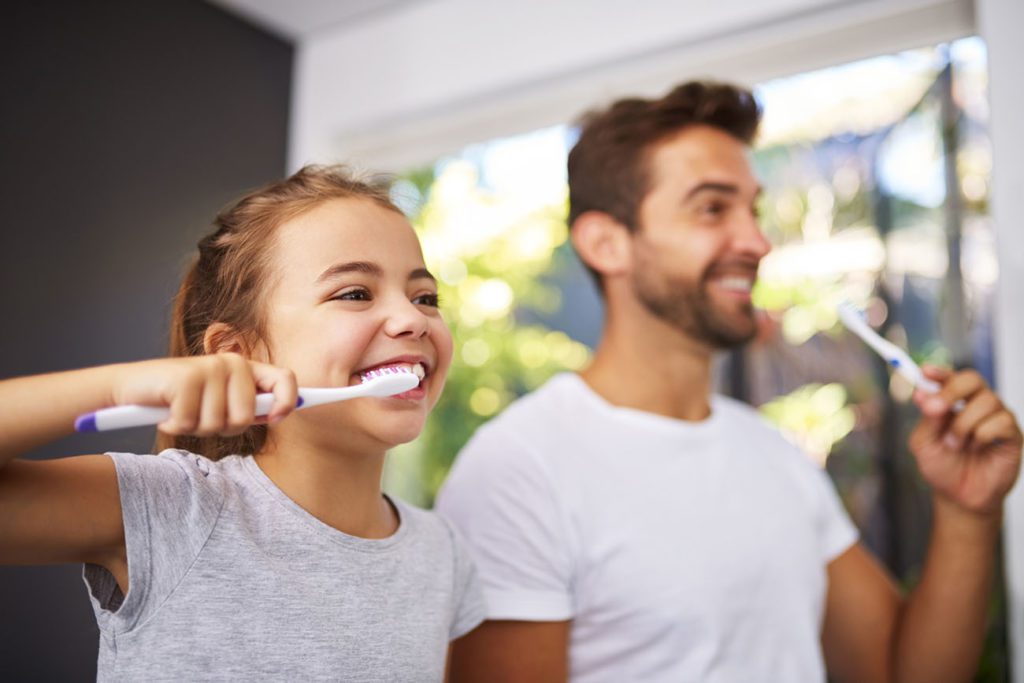 Pediatric Dental Care
Early, pediatric dental care is important as it lays the foundation for the development of children's oral health. Maintaining a healthy smile early in life makes it easier to continue good oral hygiene habits. In addition, children are the most prone age group for cavities, small holes in the tooth enamel caused by bacteria.
Our dentists recommend that parents clean their child's mouth even before their first baby teeth erupt. Wiping the gums using a wet cloth removes food debris and prevents bacteria from building up. Once children's baby teeth do come in, they can be brushed gently using a toothbrush for infants and a small amount of toothpaste.
Dental Care for Adults
Many patients deal with tooth discoloration, dental injuries, and even tooth loss as they age. Accidents, certain medications, health conditions, or simply aging can increase their risk of certain dental problems. However, Dr. Courter offers a variety of restorative and cosmetic treatments that address problems like tooth stains, damage to the enamel, and missing teeth. Take-home teeth whitening, porcelain veneers, tooth bonding, dental implants, dentures, porcelain crowns, and dental bridges are some of the best treatments for our adult patients.
Cosmetic Dental Services
Cosmetic dentistry is a discipline that focuses on improving the appearance of your teeth and smile. It involves many treatments, from simple teeth whitening to more complex procedures such as porcelain veneers and crowns. Our cosmetic dental services are becoming increasingly popular as people become more aware of having a healthy and attractive smile.
With the help of Dr. Courter, you can get the perfect set of teeth that will make you feel confident and proud to show them off. To learn more about our cosmetic dental services, see Cosmetic Dentistry.
Restorative Dental Services
Restorative dental services are essential for our patients who have missing teeth or suffer from gum disease. These services can help improve your oral health as well as restore the natural beauty of your smile. They can also help prevent further damage to your teeth and gums, reduce the risk of developing more serious dental problems, and more. To learn more about our restorative dental services, see Restorative Dentistry.
Family Dental FAQs
Want to know more about family dental care? Read the following answers to common questions many of our patients have.
Why is family dental care important?
Family dental services ensure that each member of your family is able to receive care that is tailored to their needs. It is important to have a dentist that not only provides routine general care but also comprehensive restorative and cosmetic services.
When should I bring my child for their first dental visit?
Parents should bring their children to our office after their first baby teeth erupt. Typically, the best age for a child's first visit is around 12 months. During your child's first visit, we will examine and may clean their smile. Our team also welcomes questions from parents about caring for their child's smile.
What are dental sealants?
Dental sealants are protective coatings that we apply to the molars in the back of the mouth. Sealants help prevent cavities and early stages of tooth decay. We recommend that children receive dental sealants between the ages of 6 and 12. The first molars erupt around age 6, while the second molars emerge at age 12.
Contact Our North Midland Dental Office
Are you looking for a new family dentist? Call Dr. Courter today at 432-287-9531. You can also schedule a dental appointment on our website.