Good oral hygiene and preventive care are essential for maintaining a beautiful, undamaged smile. Tooth decay and gum disease may not seem particularly harmful at first, but if you leave them alone for too long, you could end up losing your teeth altogether.
If you haven't had a dental appointment in at least six months, now's the time to get in touch with Dr. Courter. He can help protect your smile from the plaque and tartar that leads to oral health issues. Contact us for preventive dentistry in Midland, TX at the Permian Basin dental office of Michael C. Courter, D.D.S.
General dental services in particular use preventative care to stop the development of future oral health problems. For example, our custom sports mouthguards prevent dental injuries during contact sports. Tooth extractions remove infected or impacted teeth to stop the spread of decay or damage.
Even routine dental visits where our dental hygienists clean the teeth and our dentists examine the mouth for any issues offer preventative treatment. Discover more about our general dental services and their preventative qualities.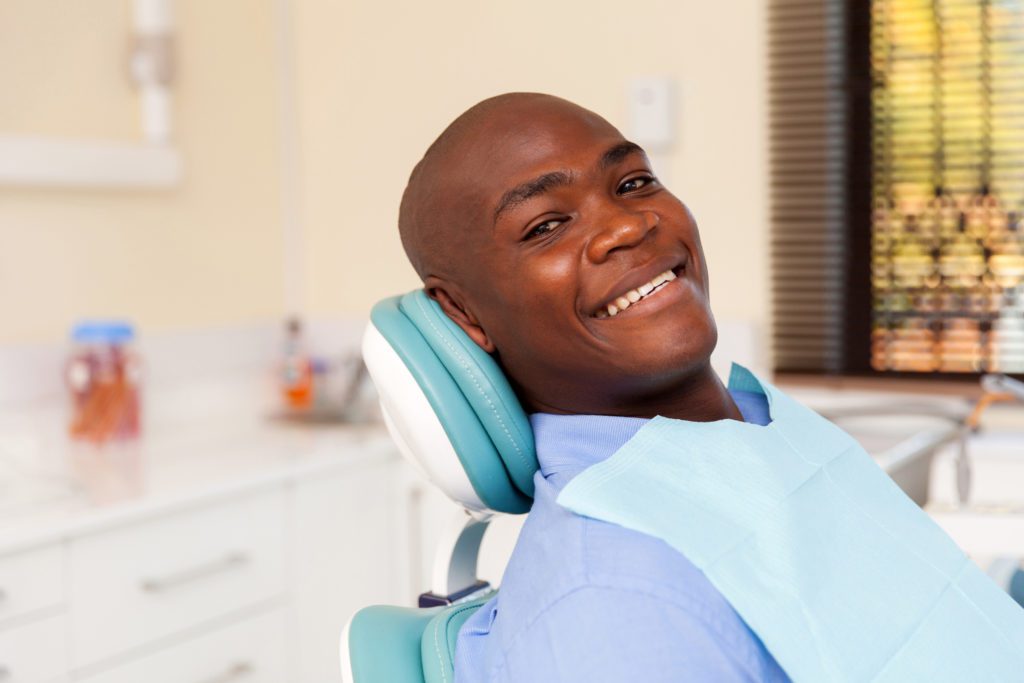 General Dentistry in Midland, TX
Our general dental services help maintain our patient's oral health and stop future dental problems from occurring. Learn about the general dental services that we provide to our patients in our Midland dental office.
Dental Checkups & Teeth Cleanings
During your checkup, Dr. Courter will carefully examine your mouth for signs of oral health problems. Thanks to his attention to detail, he can often detect cavities, gum disease, oral cancer, and other issues before they have a chance to do too much damage.
After the examination, we can thoroughly clean your teeth and gums in order to remove any plaque and tartar that you've missed while brushing on your own.
Custom Mouthguard
We can fabricate custom sports mouthguards for athletes to wear during contact sports like basketball, football, soccer, and baseball. Wearing a properly fitting sports mouthguard protects the teeth against injury or loss.
Compared to store-bought or "boil and bite" mouthguards, professional mouthguards conform to the teeth and allow patients to easily speak and drink. To learn about our custom sports mouthguard treatment, see Custom mouthguard.
Emergency Dentistry
Dr. Courter is an emergency dentist that can treat patients with prompt care. Please contact our office if you are experiencing excessive bleeding, have just injured or knocked out a permanent tooth, or have a broken dental restoration. Receiving emergency care can ultimately prevent oral health problems from worsening over time.
Do not hesitate to contact our office if you have noticed any abnormal or sudden dental problems. To learn about our emergency dental services, see Emergency dentistry.
Family Dentistry
Our dentists treat patients of all ages with family dental care. Whether you require pediatric care for your child or restorative and cosmetic treatment for yourself or a loved one, we can help.
Our team helps families schedule their appointments so that all of the members of their family can receive dental care at one roof at the same time. To learn about our dental services for families, see Family dentistry.
Sedation Dentistry
Our office can provide dental sedation to calm and relax patients so they can receive the dental care they need. Our office uses nitrous oxide and oral conscious sedation for our dental procedures.
Nitrous oxide is a gas that, when inhaled, relaxes and calms patients. Oral conscious sedation allows patients to receive pain-free treatment comfortably. To learn about your dental sedation options, see Sedation dentistry.
Tooth Extractions
Tooth extractions are often essential to restoring health to the smile. Removing severely impacted, infected, and even overcrowded teeth improve the overall health of teeth and gums.
Dr. Courter can also provide dental implants, dental bridges, or dentures to restore extracted teeth due to infection. To learn about our tooth extraction treatment, see Tooth extraction.
Fluoride Treatment
Fluoride has been an important part of oral hygiene for decades. This natural mineral promotes strong, healthy tooth enamel and helps fight against bacteria that cause dental decay. Depending on your risk for cavities and your overall oral health, we might recommend a fluoride treatment.
During this simple procedure, your dentist will apply highly concentrated fluoride directly to your teeth. It only takes a few minutes, but the added protection it provides could make all the difference!
Dental Sealants
Did you know that molars are the teeth most likely to develop cavities? This is because many patients – especially children – have trouble keeping the teeth near the back of their mouths clean.
In these cases, Dr. Courter might recommend applying dental sealants, which act as a shield to prevent plaque and food from becoming trapped in the nooks and crannies of the molars. After we clean and prepare your teeth, the dentist will paint the sealant directly onto the enamel and allow it to harden.
Tooth-Colored Fillings
We can use a tooth-colored composite resin to fill in any cavities in your mouth, as opposed to traditional metal amalgam fillings. The composite resin has many advantages, not the least of which is the confidence that comes with a beautiful smile free of metal and cavities.
Tooth-colored fillings generally don't require the removal of as much enamel as amalgam fillings. This means that we preserve more of the natural tooth's structure, thus helping it maintain its strength and avoid further damage.
General Dental FAQs
Read the following answers to common questions that our patients may have about general dental treatments.
Can dental sedation be used for routine dental appointments?
Yes, for dentists with dental fear and anxiety, we can provide dental sedation for cleanings and examinations. Please contact our office so we can accommodate your needs or the needs of a loved one. We want all of our patients to feel comfortable in our office so they can get the care they need.
Are dental extractions painful?
Many patients may think that the tooth extraction procedure is painful. Our team uses local anesthetic during simple extractions and dental sedation for longer, more complex extractions. We ensure that patients have a pain-free experience during their extraction and during the healing process.
How often should I replace my sports mouthguard?
You should replace your sports mouthguard every sports season or every six months. This is because mouthguards lose their effectiveness when they have become too worn and have lost their thickness. If your child is receiving a sports mouthguard and loses their baby teeth, they may also need to change their mouthguard.
Schedule a Dental Consultation
Are you looking for a new general dentist in Midland, Texas? Contact Dr. Courter's North Midland dental office today at 432-287-9531 or request a dental appointment on our website. Let us know if you have any remaining questions or concerns.