Orthodontic treatment isn't just for children. Adults can also benefit from treatments to straighten the teeth and realign their bite. Dr. Courter has many hours of continuing education in orthodontics under his belt.
Whether you have a child that might need braces or have been thinking of getting clear aligners for yourself, schedule a consultation to discuss options for orthodontics in Midland, TX, at Dr. Courter's Permian Basin dental office today.
Dr. Michael Courter creates treatment plans to correct a crooked smile using his skills and extensive experience. He is a ClearCorrect provider in Midland, TX. ClearCorrect uses a series of plastic aligners to straighten tooth misalignment over time.
Compared to traditional metal braces, ClearCorrect aligners are a more comfortable and discreet cosmetic dentistry treatment. Want to know more? Discover the benefits of ClearCorrect treatment below.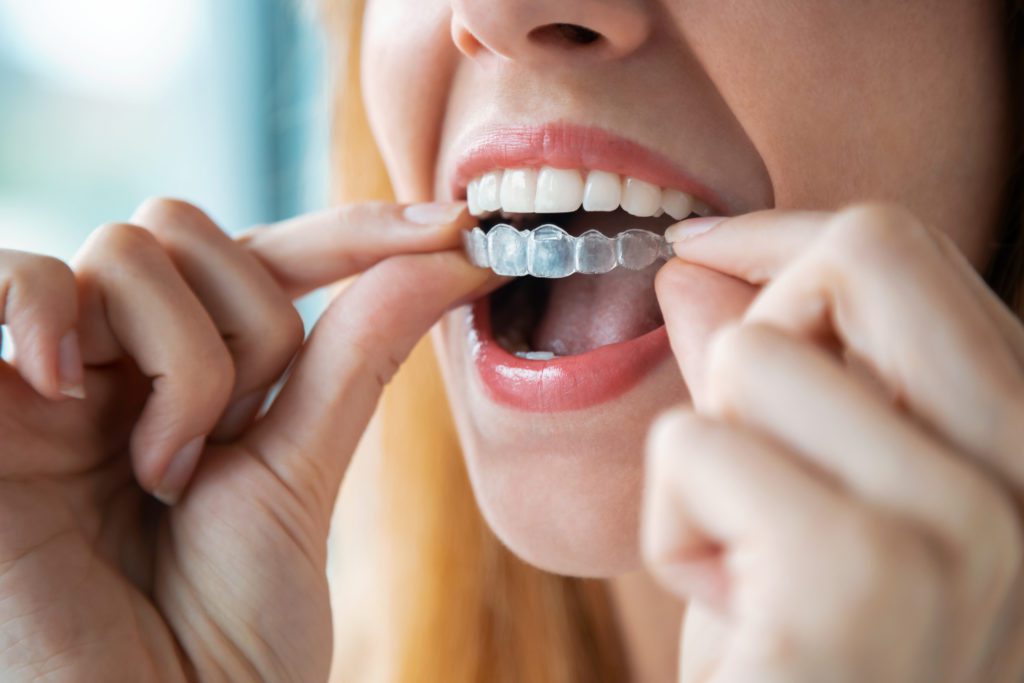 Why Straighten Crooked Teeth?
Crooked teeth are more than just a cosmetic problem. Most cosmetic dental problems have a basis in oral health issues. Crooked teeth look unseemly and can make you self-conscious about your smile. But crooked teeth are also harder to clean.
There are tighter spaces with crooked teeth that can be hard to clean in between, even with dental floss. You're more likely to develop issues with tooth decay or gum disease when you have crooked teeth.
Crooked teeth also cause you to have an imbalanced bite. When you bite down, you unevenly distribute the bite force throughout your smile. It puts more stress on certain teeth, causing them to chip or break more easily.
TMJ disorder is another problem we see in people with crooked teeth. An uneven bite puts more stress on your jaw, as it doesn't track smoothly. TMJ disorder causes pain throughout the face and can cause issues with the way your jaw functions. To learn more about TMJ disorder, see TMJ Treatment.
Treatment with ClearCorrect®: Expert Treatment for a Straighter Smile
A series of clear aligners will slowly push your teeth into alignment over time. We can correct many mild to moderate orthodontic issues in about 6 to 18 months this way.*
Not only are the aligners more discreet than braces, but they're also removable. That means you can eat anything you want without restriction, and you'll be able to brush and floss normally afterwards.
To begin treatment with ClearCorrect, Dr. Courter will take dental impressions of your teeth. He will use these impressions to map out your orthodontic treatment. Our team will send the impressions to a dental lab where they will craft several consecutive pairs of aligners.
The lab fabricates each pair of ClearCorrect aligners with slight adjustments. Once the aligners are complete, Dr. Courter will make sure that the first pair fit you precisely. You will need to switch out the aligners every few weeks as your teeth conform to the shape of the trays.
The Benefits of Clear Aligners
For patients that want to improve the alignment of their teeth or bite, ClearCorrect is able to offer several unique benefits. These advantages set this orthodontic treatment apart from traditional braces:
Virtually unnoticeable orthodontic appliance, allowing people you don't know to be unaware of the fact that you're undergoing treatment.
Removable convenience allows you to easily brush and floss as well as continuing to eat all of your favorite foods.
Better comfort due to the fact that your aligners are made from smooth, custom-molded plastic to fit your dental structure.
Customizable orthodontic treatment that fits your unique needs.
Faster and easier check-up appointments.
Clear Aligners vs. Metal Braces
Metal braces have been around for decades and remain one of the most effective orthodontic options available. Dentists can use them to correct a wide variety of complex issues, including gaps between teeth, overcrowding teeth, spacing, crossbite, overbite, and underbite. Modern braces are much smaller and less noticeable than they once were.
Children normally wear braces since it's easier to make adjustments while the mouth is still developing. However, plenty of adults can benefit from them as well. ClearCorrect can be a convenient alternative to traditional braces for older patients too! These patients don't want to wear braces to work or give up their favorite foods during orthodontic treatment.
Traditional orthodontic treatments use metal wires and brackets that can irritate the gums. ClearCorrect aligners conform comfortably to your smile to minimize irritation to the soft tissues of the mouth. Because ClearCorrect aligners are removable, patients can thoroughly clean their teeth and gums without issues.
Also, patients do not have dietary restrictions with clear aligners. Alternatively, the metal brackets that braces use can temporarily leave a stain on the middle of each tooth once the dentist removes them. Patients who undergo treatment with metal braces cannot eat very hard or sticky foods that can damage the wires and brackets.
ClearCorrect® FAQs
Read answers to frequently asked questions about ClearCorrect treatment here.
How may hours do patients wear ClearCorrect aligners each day?
We recommend that patients wear their aligners for about 22 hours each day, even during sleep. You can remove the aligners for eating, brushing, and flossing, but should leave them on for most of the day.
The overall treatment time for ClearCorrect varies from patient to patient, although the average is from eight to fourteen months.* Treatment time depends on the severity of the patient's misalignment as well as their compliance with caring for their aligners.
Is ClearCorrect treatment painful?
No, ClearCorrect treatment is not painful. Unlike traditional metal braces, ClearCorrect aligners don't have any sharp brackets or wires that will cause sores on your soft tissues. Instead, they consist of a single piece of biocompatible plastic that glides comfortably past your tongue, lips, and cheeks.
However, all orthodontic treatment causes some soreness. Your teeth may feel sore as your mouth adjusts to each new pair of aligners. However, this will quickly fade. Otherwise, you will find that ClearCorrect is not as painful as metal braces. Patients report that any discomfort is mild, and easily managed with over-the-counter pain relievers.
Will wearing ClearCorrect aligners change how I talk?
When you initially begin your ClearCorrect treatment, it may sound like you have a slight lisp when speaking with your aligners in. This is because to make specific sounds, your tongue moves to certain parts of your mouth that your aligners now cover.
It will take a little bit of time and practice for your tongue to adjust and your normal speaking patterns to return. Thankfully, this process typically only takes about a week. Try practicing speaking out loud and repeating words like "sixty" and "Mississippi".
How do I care for my clear aligners?
Keeping your aligners clean lowers your risk of tooth decay, protects against bad breath, and prevents your invisible trays from discoloring. In addition, cleaning your aligners before placing them back on helps minimize the number of bacteria on them. To care for them properly, remember to:
Only use plain water, clear liquid soap, or special cleaning products from us. Toothpaste and denture cleaners are too abrasive and can damage your aligners.
Don't expose your aligners to hot water, as this can deform them.
Give both your teeth and your aligners a quick brush after every meal. Food can cause bacteria buildup.
Do not wear your ClearCorrect aligners if you are eating or drinking anything other than water. Pigmented beverages can stain the aligners.
Keep your aligners in their case when you're not wearing them! Wrapping them in a napkin makes it very easy to accidentally throw them away or leave them behind.
Are you looking for a comfortable way to straighten crooked teeth in North Midland? Do you need touch-Up treatment for orthodontic relapse? Ask our Permian Basin dental office about comfortable ClearCorrect treatment today. Contact Dr. Courter by calling 432-287-9531. You may also request a dental appointment with Dr. Courter online.
*Results may vary