Dr. Michael Courter provides dental bridges to our patients in Midland, TX. We provide this restorative dentistry procedure to replace many consecutive missing teeth.
It is important to replace missing teeth, especially multiple missing teeth. If you have several lost teeth, you are more at risk of developing tooth decay. Food debris and harmful bacteria can build up in tooth sockets and cause infection. This in turn causes cavities and decay.
In addition, when one tooth is missing, adjacent natural teeth can sometimes shift to try and fill the empty space. This can lead to overcrowding. Overcrowded and crooked teeth can also lead to tooth decay because they can be difficult to clean.
Restoring teeth with a dental restoration like a dental bridge can prevent decay and make it easier for patients to eat comfortably and speak clearly.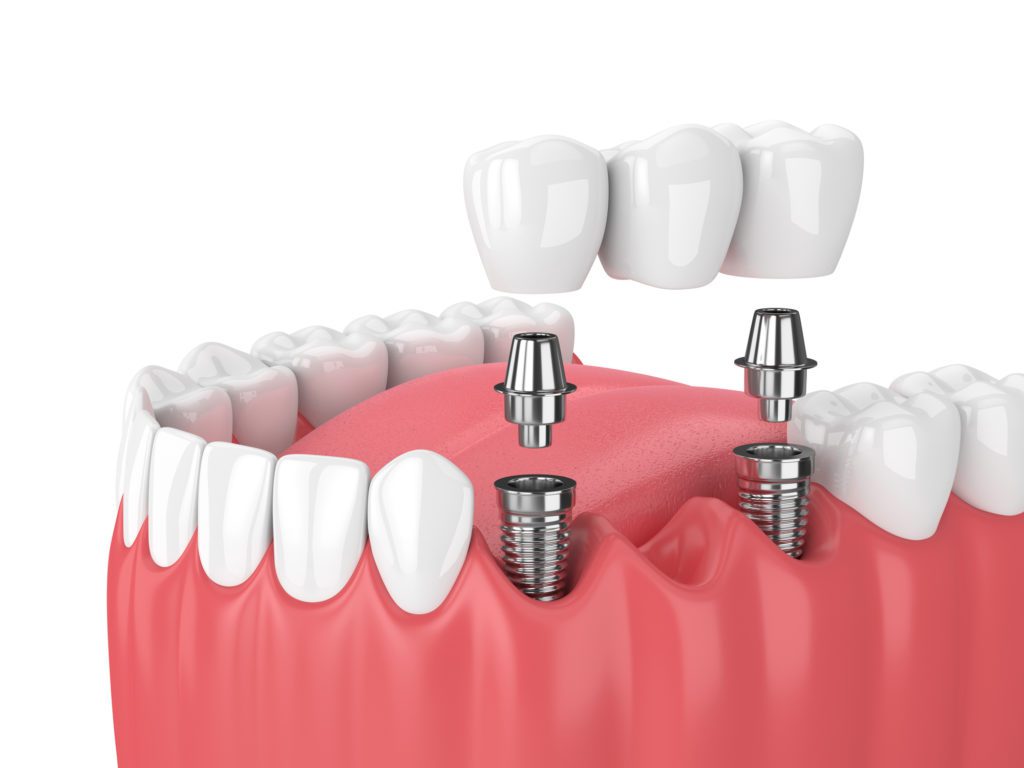 What is a Dental Bridge?
When a person has a severely damaged or missing tooth, it greatly affects their quality of life. While their smile may not be as beautiful as they'd like, they also are likely to suffer from low self-esteem, discomfort when eating or speaking, and poor oral health. If this describes you, the compassionate dental team at our Midland dental office can help. Using our affordable dental bridges, you can restore the health and beauty of your smile in no-time.
A dental bridge is a cosmetic tooth replacement that consists of two or more dental crowns, or abutment teeth, that act as anchors. These abutment teeth support the prosthetic tooth, or pontic, in between them. A dental bridge can hold up to three artificial pontics in place. They can consist of different materials depending on the patient's dental needs, such as porcelain, metal, or a combination of both. There are three main types of dental bridges: traditional bridge, cantilever bridge, and Maryland-bonded dental bridge.
Traditional Dental Bridge
These are the most common type of dental bridge. Traditional bridges consist of a dental crown that sits on top of the two natural teeth or dental implants on either side of the pontic. This type of bridge is also known as a "fixed bridge," meaning that the abutment teeth are fitted with prosthetic crowns that support the bridge and keep it securely in place.
A fixed bridge is strong and durable, and can be a very effective way to fill the gap and restore normal function to your mouth. Additionally, it can help maintain the proper shape of your face, prevent teeth from shifting and drifting out of place, and help correct your bite.
Cantilever bridge
Our dentist provides this type of bridge when there are only teeth to support the bridge on one side of the pontic. Because of this, they aren't as strong as a traditional bridge. Unlike a conventional bridge which needs to have crowns placed on both sides of the pontic, the cantilever bridge only needs an abutment tooth on one side. A dentist will provide this type of bridge in cases where there are not enough healthy teeth nearby to support a traditional bridge.
Maryland-bonded bridge
A Maryland-bonded dental bridge is a type of bridge that can replace one or more lost teeth. Unlike traditional bridges, which use metal components to hold the artificial tooth in place, Maryland-bonded bridges use a porcelain material that the dentist bonds onto existing teeth or implants. This type of bridge is both aesthetically pleasing and durable, and can last up to 15 years with proper care.
As opposed to traditional dental bridges, Maryland-bonded bridges do not require the alteration or removal of the surrounding teeth, and can provide good stability in areas with minimal material strength.
Removable vs. Fixed Dental Bridges
Dental bridges may be fixed or removable. Traditionally, dental bridges are removable or secured with a dental crown. Dental crowns cover natural teeth adjacent to the missing tooth gap. However, these traditional fixed bridges are not permanent and may require regular readjustment. Removable dental bridges do not fully support the bite and are usually temporary until you seek a more permanent restoration.
If dental bridges are supported by dental implants, they are more likely to become permanent restorations. Dental implants are titanium posts that are strategically placed to support dental prosthetics. Securing a dental bridge with implants stabilizes the restoration and makes it easier to bite, chew, and speak with ease.
Dental Bridge Treatment
The process for getting a dental bridge will start off with a thorough exam and consultation with our dentist. Dr. Courter will create a detailed treatment plan and timeline during this consultation. Next, Dr. Courter will take dental impressions of your mouth and teeth. Dental lab technicians will use the impressions to create your new fixed bridge.
Before the bridges are complete, Dr. Courter will prepare your abutment teeth and mouth for the restoration. He will need to address any underlying issues, such as gum disease, before he can place the bridge. Once the bridge is ready, he will place it on your teeth and adjust it to ensure a comfortable and secure fit.
Our dental office provides implant-supported dental bridges for a more durable and longer-lasting restoration. In some cases, we may permanently anchor the bridge to your mouth using dental implant posts right in our office. Dr. Courter can explain this option in further detail at your appointment.
Overall, bridges are a great option for replacing missing teeth and restoring your mouth back to full function. If you're thinking of getting a dental bridge, be sure to consult with our dentist for more information.
Schedule a Dental Consultation
Create a fuller and more uniform smile with a dental bridge. Request a dental appointment with Dr. Courter online or contact our North Midland dental office today at 432-287-9531. Let Dr. Courter or a member of our dental team know if you have any questions.