Dr. Michael Courter provides dental bridges to patients in Midland, TX. This restorative dentistry procedure is used to replace multiple consecutive missing teeth. It is important to replace missing teeth, especially multiple missing teeth. If patients have several lost teeth, they are more at risk of developing tooth decay. Food debris and harmful bacteria can build up in tooth sockets.
In addition, when one tooth is missing, adjacent natural teeth can sometimes shift to try and fill the empty space. This can lead to overcrowding. Overcrowded and crooked teeth can also lead to tooth decay because they can be difficult to clean. Restoring teeth with a dental restoration like a dental bridge can prevent decay and make it easier for patients to eat and speak.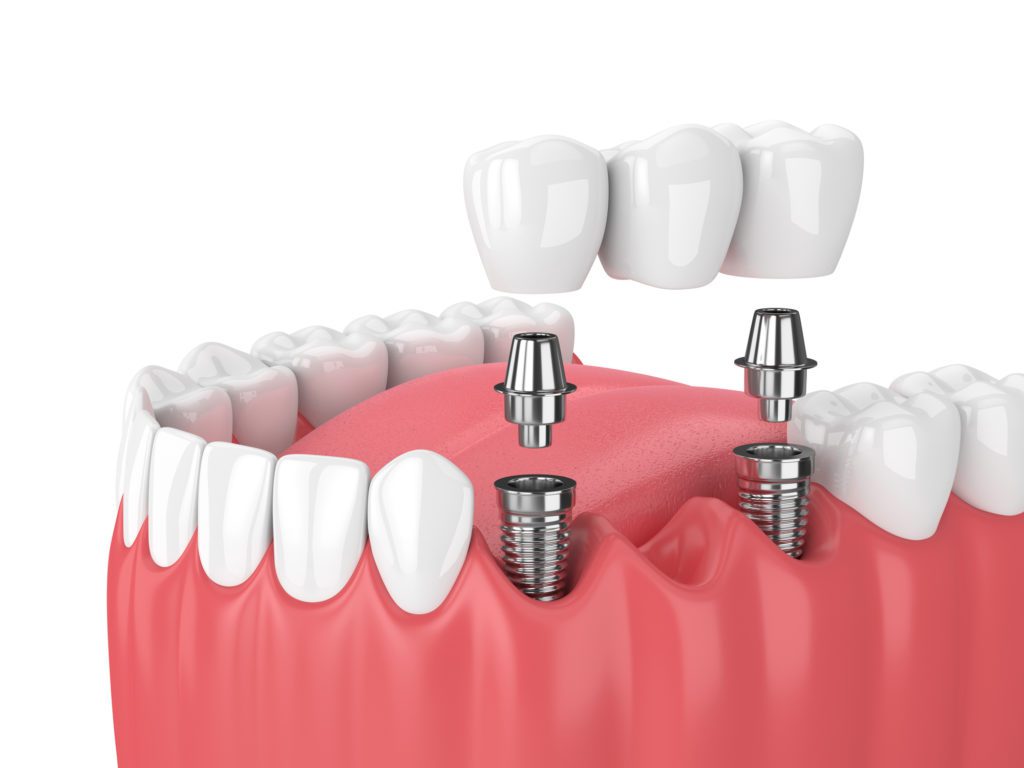 Removable vs. Fixed Dental Bridges
Dental bridges may be fixed or removable. Traditionally, dental bridges are removable or secured with a dental crown. Dental crowns cover natural teeth adjacent to the missing tooth gap. However, these traditional fixed bridges are not permanent and may require regular readjustment. Removable dental bridges do not fully support the bite and are meant to be temporary.
If dental bridges are supported by dental implants, they are more likely to become permanent restorations. Dental implants are titanium posts that are strategically placed to support dental prosthetics. Securing a dental bridge with implants stabilizes the restoration and makes it easier to bite, chew, and speak with ease.
Dental Bridge Treatment
Our dental office provides dental bridges secured with dental implants for a more durable and longer-lasting restoration. Dr. Courter begins treatment by taking impressions of the teeth. The impressions are used by dental lab technicians to create the crown-capped bridges. Before the bridges are complete, Dr. Courter will surgically insert implants into the jawbone. After the dental implants heal and fuse to the jawbone, he will attach the bridge prosthetic.
Schedule a Dental Consultation
Create a fuller and more uniform smile with a dental bridge. Request a dental appointment with Dr. Courter online or contact our North Midland dental office today at 432-287-9531. Let Dr. Courter or a member of our dental team know if you have any questions.