People who seek long-lasting solutions to enhance the appearance of their teeth can feel satisfied with porcelain veneers. This cosmetic dental treatment involves attaching custom-made shells to the front of teeth to construct a whiter, straighter, and fuller smile according to the patient's aesthetic goals.
Though known for their cosmetic dental benefits, veneers can also help you restore the health and structure of your smile in many cases. Your dentist can provide details relevant to your unique case when you schedule a consultation. Read on to learn three ways that porcelain veneers can improve your overall oral health besides smile enhancement.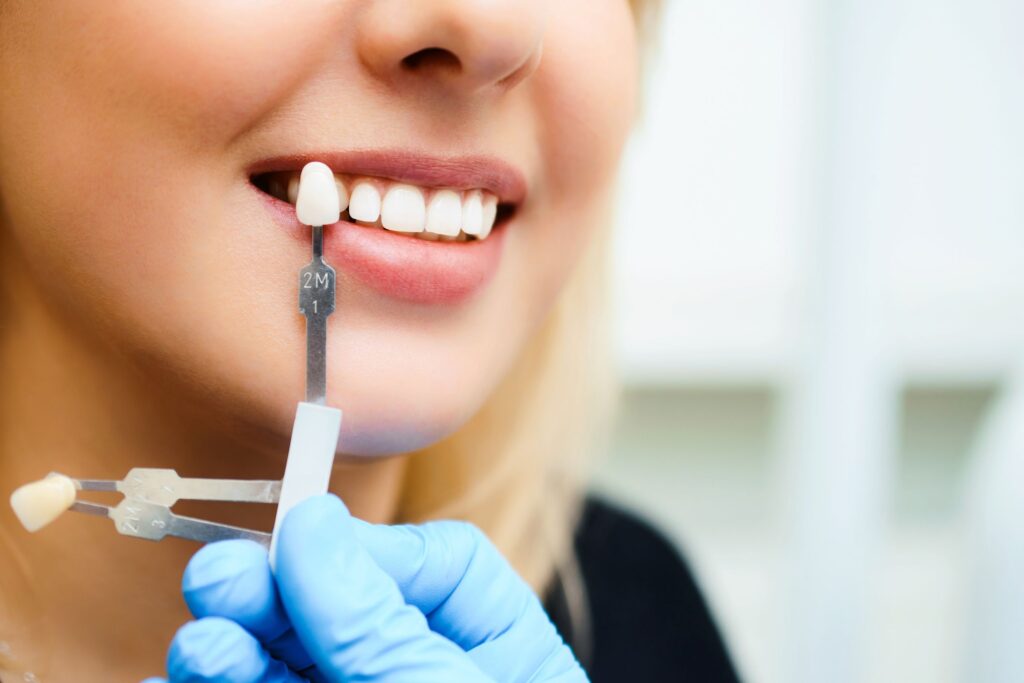 3 Dental Health Benefits from Porcelain Veneers
Replace Thinned Tooth Enamel
Your teeth have a hard outer layer called enamel that serves as a shield to protect the vulnerable interior from the typical wear and tear your teeth experience. Though durable, the enamel might wear down over time. This can expose nerves and put your smile at risk of cavities and other dental dangers.
Enamel will not regrow on its own, but a dentist can treat dental erosion by replacing lost enamel. For mild cases of enamel loss on the front of teeth, a dentist can use porcelain veneers.
The strong veneers seal into place using dental bonding on the teeth for a secure hold and thorough protection of the underlying tooth. They can remain in place for fifteen years with proper care. So if you need enamel restoration as well as aesthetic enhancement for this specific part of your teeth, veneers might be the way to go.
Repair Minor Tooth Breakage
Accidents can happen to the best of us. Even with diligent dental care, you might sustain a crack or chip in your tooth. Not only will this disrupt the appearance of your smile, but this injury can create a vulnerable spot on the tooth where bacteria can wreak havoc on your smile.
Major tooth breakage will need restorative dental solutions to repair. But smaller chips or cracks on the front of teeth can be amended with porcelain veneers.
The veneers will improve the shape of the tooth while covering the broken part of the enamel. And you can anticipate lasting improvement in the tooth's look as well as ensure it stays safe from further harm.
Boost Your Oral Hygiene Regimen
When you have crooked, gapped, or overlapping teeth, you might struggle to keep your smile as clean as you should. Food can become trapped between gaps in your teeth, and your toothbrush might not reach the entire surface of overlapped teeth.
Then plaque will cling to your smile, eating away at your dental structure to cause lasting damage. If you create a straighter smile with porcelain veneers, it can be easier to clean and maintain good oral hygiene. You can better access the surface of your teeth to thoroughly clear away harmful residues.
Veneers resist decay and staining, but they still garner plaque throughout your day. So continue to brush and floss your teeth to keep your smile looking and feeling its best.